When Francis "Bunny" Donald Holden Bremner died in 1983, he left amongst other things, a doting family and three innocuous parts of a plane in his workshop in Kent. These three parts; a control stick, rudder bar and magneto were remnants of a biplane he'd flown, long since out of commission called the Bristol Scout.
During his lifetime Bunny would entertain his Grandchildren, telling them of the time he was in the Royal Naval Air Service; of being shot down; of the many missions; and the 12 aeroplanes he had flown. Of these 12 planes, it was the Bristol Scout (nicknamed the Bullet) that he was most fond and he'd have loved to see fly again.
In 2003 fellow aviation enthusiast Theo Willford suggested to Bunny's grandson David Bremner that an investigation into the possibility of rebuilding the Bristol Scout began. Over the following years and with the help of David's brother Rick, they sourced drawings and parts from around the world spending around £100,000 and many long hours trying to get it airborne again.
The plane itself is simple by today's standards, mainly made of wood, wire and linen. During war times this made it very perilous. Rick recalls tales from his grandfather 'His favourite stories about the Bullet were about the unsynchronised Lewis machine gun that fired some of its bullets into his own propeller, so they had doped fabric strips to the propeller "to stop the splinters coming off in your face." Many pilots died on missions, and average life expectancy for an Allied pilot was just 17.5 hours flying time. Bunny was lucky to be alive.'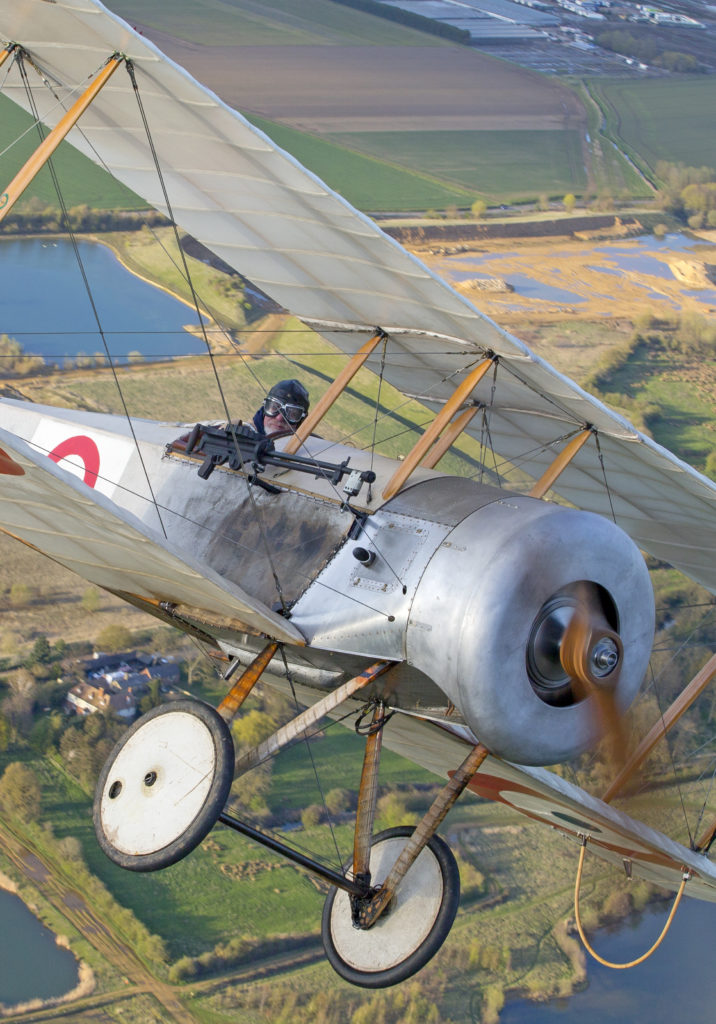 At the time of the Bristol Scout specialised aviation clothing was not yet available. Cars travelled faster than planes, and it seemed natural to use protection designed for motorists. The war brought on quick performance improvements, and as the open-aired planes flew even higher, the pilots would suffer hypothermia and hypoxia. Protective clothing was developed to protect against the cold weather, slipstream and in some aeroplanes oil from the engine.
When David and Rick Bremner and Theo Willford fly the plane today, they make sure to wear the appropriate clothing. Pictured here David is wearing our Gladiator Leather Flying Helmet (Black) and Climax 510 Goggles.
Wearing a helmet is comfortable, stops hair "fluttering" around the cockpit, keeps your head warm and is a convenient place to attach your headset and goggles. You can choose from cloth, leather with fabric lining, leather with fleece lining, to get the best vintage look.
Dave and Rick learnt to fly on hang gliders and microlights. Even so, the maiden flights of the Bristol Scout were a nerve-wracking experience. 'Bearing in mind this is the only one of its type in the world, and we had no real idea about some particular bits, but the flying is actually very straightforward.'
The Bristol Scout was an extraordinary plane. To put it into context: in 1903 the Wright Brothers recorded the first-ever powered flight in history at a speed of 30mph; in 1914 the Bristol Scout was the best in the world flying at a maximum speed of 86mph and was the prototype single-seat fighter for all later planes of that type. It was also the first wheeled craft to take off from a moving ship.
You can read more about the plane and their journey to rebuild it in their book here https://bristolscout.wordpress.com/moichandising/bristol-scout-the-book/.
—
Featured Products: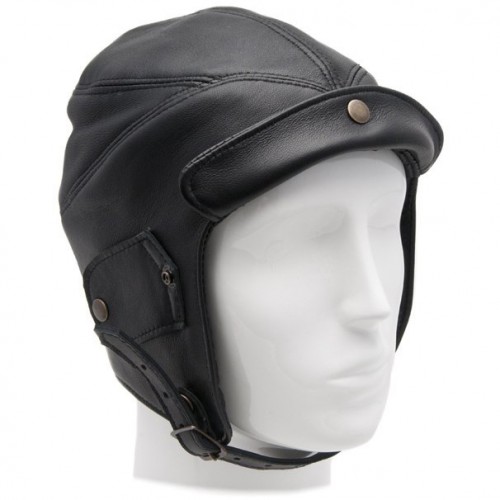 Gladiator Leather Flying Helmet (Black)
The Gladiator flying helmet is hand made from soft hide and has a quilted lining for maximum comfort. Other features include a front peak, roll forward ear flaps, goggle straps and long neck cover. The chin strap has a buckle allowing adjustment for fit and a snap stud for convenience, meaning that once fitted comfortably, the helmet is easy to remove and replace as required.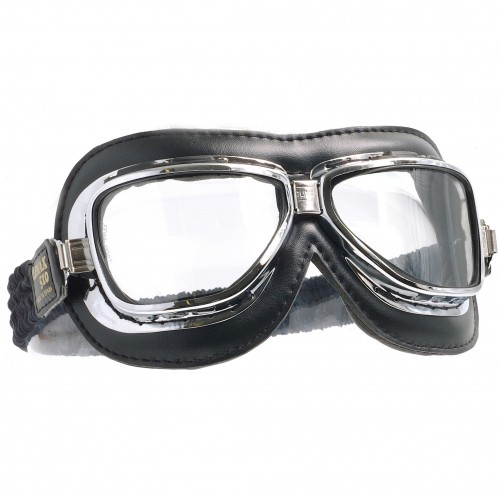 These goggles feature a chrome-plated, square-shaped frame and curved Triplex glass lenses provide a wide peripheral vision. Eye pads are in black leather. The cutout section across the nose bridge interior of the face mask allows small spectacle frames to sit neatly behind the goggles.
—
Additional information about the Bristol Scout:
Manufactured by the British and Colonial Aeroplane Co Ltd, Filton and Brislington, Bristol
Wingspan – 24ft 7ins (8m)
Length – 20ft 8ins (6m)
Maximum speed – 93mph
Source: Royal Navy Fleet Air Army museum