In 2006, my late father bought a perfectly presentable GAN 5 MG Midget. However, as always happens, he soon started "Improving" things. One thing, that came out of the woodwork and which I couldn't believe, was that whilst the car had new rear wings, the previous owner hadn't changed the boot floor extensions. Since these go first and are an easy job, with the wings off, I found this staggering but underseal can camouflage for a time. When my father discovered this, I think it made him look more carefully at other things and wonder just whether the head really was lead-free. To save time (Though it didn't actually save time), I gave my father the spare head off my 1275cc Morris Minor Traveller and it was sent to http://www.peter-burgess.com/ , for his Econotune set up (Like the Morris).

As can happen, the car was off the road for years.
The first job was the interior. He stripped the seats, checked and painted the frames, before getting http://www.suffolkandturley.co.uk/ to recover the seats and make new carpets. One thing led to another!!
In the meantime, the car went to http://www.rspanels.co.uk/ (Whom we had used before) for the boot floor extensions to be done and the wings repainted. At the same time, the bonnet was vented and the general panel fit improved. I used to do the driving on those trips, which usually took as through Leominster and I am sure we passed Holden's at least once, en route. We picked up the motorway at Droitwich, so it was basically M42 and M6 for Nuneaton. I used to enjoy those trips and I am glad I took the camera along on one of them.
It finally dawned on me, last year, that my father enjoyed the work more than the results (To me, it is a means to an end). My father rebuilt the windscreen and the steering rack and between us we did the rear axle, in situ (I know, for one birthday, I sent his diff assembly to https://thegearboxandclutchcompany.com/ . My father often went into the finest of fine detail and I think needed to live about 200 years, in order to finish everything off to that standard. Progress was slow and sporadic and eventually I suggested that my father let me finish off what had to be done. I said something to the effect that I wouldn't live long enough to see him do it, the way things were going (Though I didn't know how short of time my father was by that time). My father saw the humour in the remark and agreed. It's while since I emailed you, so can't recall how much you already know. My father said he wanted to sell the car but I didn't take note of this. Bodging isn't in my nature, my father could have changed his mind and if he didn't, I didn't want to hand prospective purchasers reasons to pick hole in the car.

Up until 80, my father was not too bad but then in 2019, not long before he reached 81, came his second heart attack and sadly, a misdiagnosis of cancer which killed him. He seemed to get over the heart attack well enough, though the "Virus" occasionally caused trouble (He was prone to suffer in silence, so it was sometimes hard to know what was going on) and by the Spring of last year, it was a chronic problem. In July were learned that the virus was cancer.
I had spent most Sundays working on the car (As I was taking over the job, I had to see what had been done and what needed to be done….and what was in limbo) so that by April it was mobile and by July, it was roadworthy. Indeed, I took my father on one of the test runs just days before his first spell in hospital. I collected him from the hospital, in it (End August) and we were able to go out in it subsequently. His last trip out was on 4 November, in my mother's MGB GT. On 25th November, he went into Brecon Hospital, where he died on 2nd January.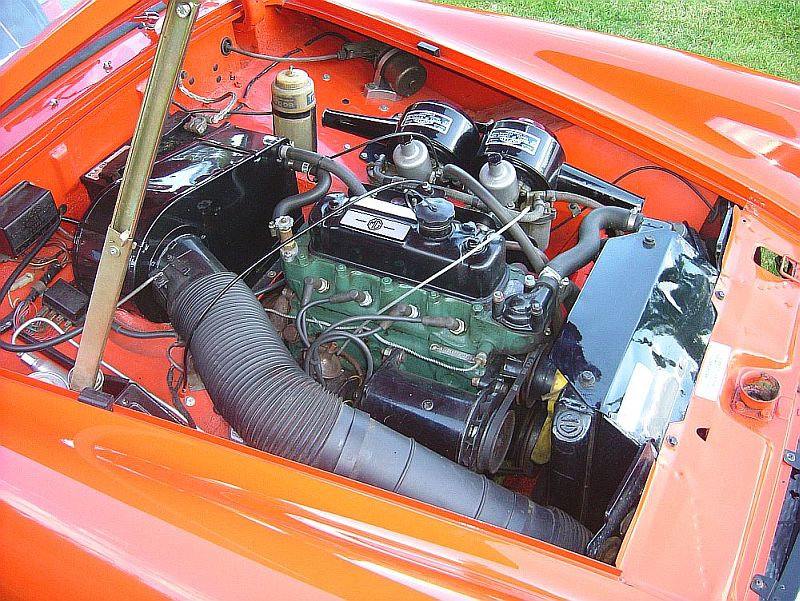 I had fitted a slightly reworked cylinder head, LCB exhaust etc and electronic points, so after some bedding in, it needed a rolling road set up. Due to the poor communications and lack of coordination, within the NHS, we were not sure of what the prognosis really was (I am still waiting on second opinions) but my father's GP had advised that, without treatment, my father would see Christmas 2020 but not Christmas 2021. That may have proved correct, but it was highly misleading. The rolling road set up was planned for the (Hopefully post covid) Spring but at the end of November, I felt it a wise precaution to get it done ASAP. An early start (And my night vision is not what it was!!) on 9th December, saw me able to take the power plot into my father that afternoon!! He has been keen to know the power (I had guessed 75 – 80 bhp), which turned out to be 76.8 bhp. I really wanted him to know. It is such a shame that we could not have been allowed just another year to enjoy the car together.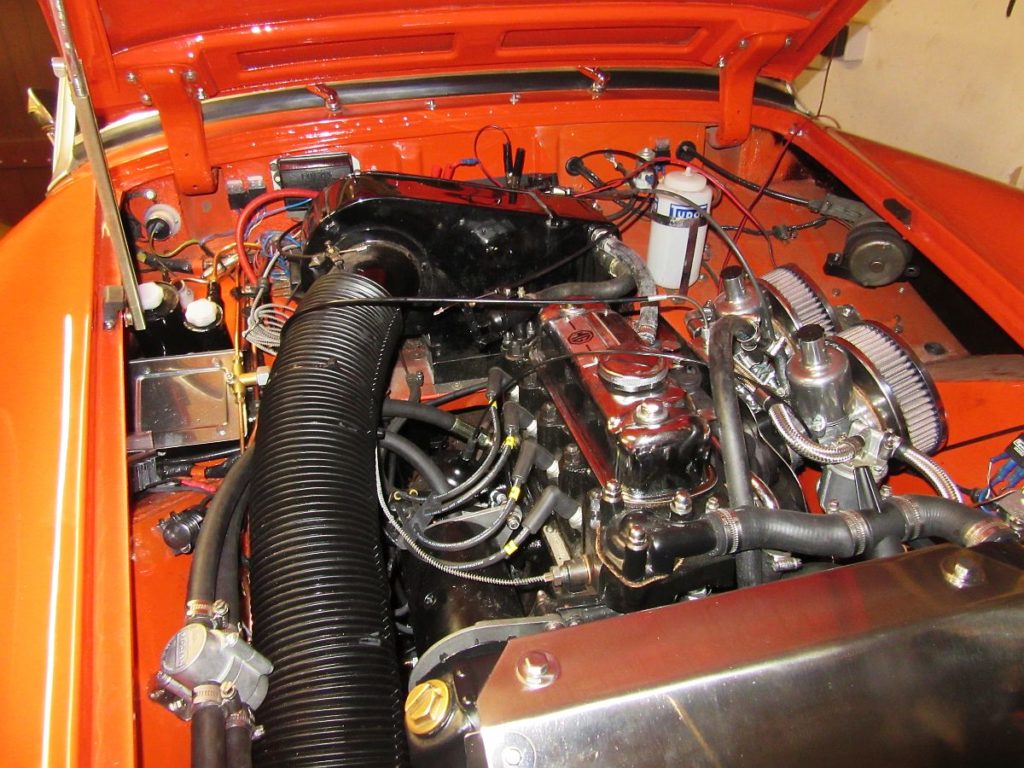 When it was agreed that I would finish off the car, the aim was to then sell the car but finished rather than as another unfinished and hard to sell project. I did not allow this to alter the way I put it back together, in case my father changed his mind and so as not to hand any would be purchaser reasons to pick holes in it. In the event, when he saw it finished, my father told me that he wanted to keep it and furthermore, I was to hang on to it after his days (At the time, we did not know how soon that would be). It will call for some imaginative storage but with the Hamer four poster ramp, I should be able to house the five cars in the family. I will certainly do my best, as they are part of the family and my father lives on in his Midget and in the MGB GT V8, that he bought in 1985 (The day we went to see it is a clear and fond memory; again we used my Midget for that) and which I took over in 2003.